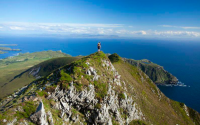 Dear Friends,
Please pray for the Lord to use these meetings to inspire, instruct, impart and prepare the Body of Christ in these places to reap the harvest. Pray Please For souls to be saved, bodies healed, lives transformed. Pray that Paul in Nuala will be channels of love and truth in the power of the Holy Spirit at all these meetings.

APRIL
SUN APR 2nd Kilkenny Community Church c/o Andy Guilfoyle, 056-776-9978
WED APR 5th Lucan Charismatic Fellowship c/o Bill& Helen Lacy 01-628-0493
SAT APR 8th National Day Of Prayer, Dublin c/o Miriam Beattie, 087-990-6062
SUN APR 9th Healing Streams, Newcastlewest c/o Tom Hartney, 025 27486
MON APR 10th Leighlin Fellowship Co. Carlow c/o M/Devine 059-97-21447
TUE APR 11th Trinity Church Home Group/o Marian McDonagh 01-845-6199

SUN APR 16th Abundant Grace c/o Paul & Sharon Perry 087-958-8513
TUE APR 18th Rehoboth Fellowship Carlow c/o Dick Moore 056- 772-3122
WED APR 19th Tallaght Home Group/ Morning Meeting c/o Frank & Sylvia Cairns 01- 461-0054
THU APR 20th Freedom Life Centre, Camlough, CoDown, c/o Billy McCammon , 078-432-32929
FRI APR 21st Dungiven Fellowship Co. Derry (N. Ireland) c/o Thos. Farrell, 078-0183-2520
SUN APR 23rd River City Church, Derry c/o Phelim Doherty, 79-7741-0467
SUN APR 23rd Lisnadill Full Gospel Church c/o Gary & Mark Anderson, 028-37-525731
TUE APR 25th Glenvarna Christian Centre, Newtownabbey, Co. Antrim c/o W. McClay 028-90-844008
THU APR 27th Loughbrickland Mission, Banbridge Co Down c/o Jim Stewart, 028 406 51210
FRI APR 28th Across The Generations c/o Harry Ferguson, Dundonald, Belfast, 028-90-768-395
SAT APR 29th Women For Him, Crossgar Co. Down c/o Ann Herron 028-44-831859
SUN APR 30th Carryduff Elim c/o George Ritchie, Carryduff Co. Down, 077-40980510
SUN APR 30th Forestside Community Church, Belvoir Belfast c/o S. McIlwraith, 028 90-64-4100
MAY
MON MAY 1st Riverside Fellowship, Portadown, Co. Armagh c/o John Gates 028-38-841-165
FRI MAY 5th God's House Of Prayer, Carlow, c/o Cait Rice 059-91-33450
SUN MAY 7th Wexford Christian, Community Church c/o Pat Murphy, 086-8234153
Mon MAY 8th Lydia Fellowship Brittas Co. Wicklow c/o Miriam Beattie, 087-990-6062
Thu MAY 11th Monasterboice Fellowship c/o Noel & Agnes Joyce 041-988-1823
SUN MAY 14th Carlow Community Church c/o Seamus O'Callaghan, 59-914-0754
THU MAY 18th Oasis Fellowship Roscrea c/o T. Cleary, 087-229-7104
SUN MAY 21st Door Of Hope Church, Limerick c/o Freddie O'Neill, 087-9132-159
SUN MAY 28th Castlebar Christian Fellowship c/o Cathal Duffy 10.30 p.m. 094-902-7686
SUN MAY 28th Walkinstown Prayer Gathering c/o Tony Mrade, 01-450-9737
TUE MAY 30th Ballinacoola Fellowship, Co. Wicklow c/o Susan Philips, 0404-44624
JUNE
SUN JUN 4th World Outreach Centre Limerick c/o Jim & Jan Schmitt, 085-805-3130
WED JUN 7th Lucan Charismatic Fellowship c/o Bill& Helen Lacy 01-628-0493
THU JUN 8TH Oasis Community Church Roscrea c/o Trevor Cleary, 087-229-7104
SUN JUN 11th River of Life Church, Athlone c/o Trevor Hill 0902-76840/ 087-792-6602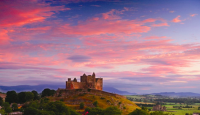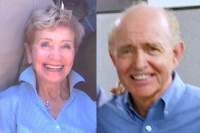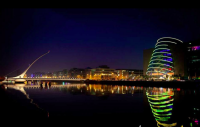 Please keep us in your prayers that the Lord may continue to strengthen us and give us much fruit as we serve Him with joy this year.
Let us know if we can be of help to you or to your church or fellowship.
Every blessing,
Paul & Nuala