Itinerary and Day's Activities, October 16- 25, 2017
Dear Friends,
It has never been a better time to visit Israel. Our tour to Israel in October will give you a whole new understanding of the eternal place of Israel and the Jewish people in the plan and purposes of God.
Come and join us join us for our annual tour to Israel in October 2017 as we explore the places associated with Jesus ministry. We study the message behind the places.
Israel is safe and a visit to israel is no mere holiday – it is a life-changing experience. October is one of the best times of the year to visit israel.
We will study, pray, and praise our way throughout the land. We will discover the ancient promises God gave to Israel and the dynamic connection between the followers of Jesus and the Jewish people.
Our hotels are excellent four star hotels and we will travel in luxury coach throughout the land.
This is a special year in Israel:
The 100th anniversary of the Balfour Declaration, which recognized Israel as a homeland for the Jewish people.
The 50th anniversary of the U.N. declaration which recognized the Jewish people right to set up a state in the land of Israel.
The 40th year of the unification of Israel under Jewish Sovereignty (as prophesied by Jesus in Luke 21:24.
The 500th anniversary of the reformation which began the restoration of the authority of the word of God over tradition.
Hotels: Dan Panorama, Tel Aviv, Nof Ginosar Galilee,Crowne Plaza Dead Sea, Prima Kings, Jer'lem
(http://www.danhotels.com/TelAvivHotels/DanPanoramaTelAvivHotel/+)
[https://english.ginosar.co.il/
https://www.ihg.com/crowneplaza/hotels/us/en/dead-sea/ddsil/hoteldetail
Day 1, Monday, October 16
Arrive Ben Gurion Airport.
Israel dinner & overnight at Dan Panorama Hotel, Tel-Aviv
Day 2, Tuesday, October 17
A.M. Tour Joppa, (Acts 10, Jn. 1) Caesarea (Acts 10, Acts 23)
Mt. Carmel (1 Kings 18) Megiddo (Rev. 16.16) Nazareth (Luke 1, Lk. 4) and on to Sea of Galilee.
Dinner and overnight at Nof Ginosar Kibbutz Hotel, Galilee
Day 3, Wednesday, October 18
A.M. Visit and Boat Ride to Sea of Galilee (Mark 4, Mark 6), Capernaum (Mt. 4 & 8), Mt. Of Beatitudes (Mt. 5-7)
Bethsaida (Jn.1, Mk.6) Caesaraea Philippi (Mk. 8)
Dinner and overnight at Nof Ginosar Kibbutz Hotel, Galilee
Day 4, Thursday, October 19
Drive south along Jordan Valley, overview Jericho (Joshua 6) Baptisms at Jordan River, (Josh. 5.2, Kings 2, Mk 1, Rm. 6)
Visit Ein Gedi (Psalm 42), on to Wilderness (Luke 4) & Dead Sea
Dinner and overnight at Crowne Plaza Spa Hotel, Dead Sea
Day 5, Friday, October 20
Visit Masada enroute to Jerusalem. Enter & overview of Jerusalem.
Dinner & Overnight at Prima Kings Hotel, Jerusalem
Click here to send us a message.
Day 6, Saturday, October 21
A.M. Mt of Olives (Mt.24, Lk.19, Acts 1), Pater Noster Garden, (Mt. 27, Lk.16)
Review Jesus' Prophesies Concerning Jerusalem & His Return. Recall His Death Resurrection & Ascension.
Afternoon, visit Shepherd's Fields Bethlehem (Lk.2)
Dinner and overnight at Prima Kings Hotel, Jerusalem, Click here for more information
Day 7, Sunday, October 22
Mt. Zion (Mark 14.13), Upper Room Area (Acts 2, Jaffa Gate
Jewish Quarter (Zech. 8) Western Wall (1 Kings 8)
South Temple Steps (Acts 3), Jewish Quarter
Dinner and overnight at Prima Kings Hotel, Jerusalem
Day 8,Monday, October 23
Visit Garden of Gethsemane (Mt. 26), Holocaust Museum (Ezek. 37) (2 hours), Ein Kerem (Luke 1& 2)
Emmaus (Lk. 24) Knesset Menorah.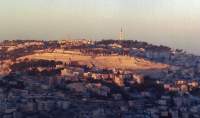 Overnight Prima Kings Hotel, Jerusalem
Day 9, Tuesday, October 24
Free Day (Shopping in Ben Yehudah St., Mamila Mall, Jaffa Gate etc.)
Farewell Dinner & overnight at Prima Kings Hotel, Jerusalem
Day 10, Wednesday, October 25
Early A.M. departure from Hotel to Ben Gurion Airport for morning flight home full of great memories and vision.
Please pass this message on to your social network.