Waking the Sleeping Giant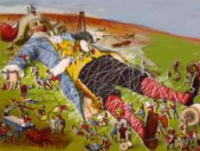 Statistics say that two billion of the earth's six billion population are Christian. What a vast pool of resource and gifting lie dormant among us. These are the last days – the day the Holy Spirit is awakening this ""Sleeping Giant"" to reach the last harvest.
There are some who do not believe in a last great harvest. They just believe in the end time falling away. We believe in both. The awakening of the "Sleeping Giant" involves many factors. Chief among these is the awakening of all believers to
• their identity as sons of God;
• their dominion over sin the flesh and the devil and
• their empowerment to minister God's salvation, truth and healing to the earth God's life in His people is hindered by
• the ignorance that hides our identity and calling from us;
• the sin that holds us back.
These two major themes dominate the teaching of the apostles.
• Removing sin from the lives of believers who are already legally free from sin
• Revealing the hope of their calling
Knowing Who We Are
The first area where the "Sleeping Giant" is arising is in the area of knowing the hope of our calling. We are not just plumbers, businessmen, computer operators or housewives etc. but sons and daughters of the living God sent into this world to be His ambassadors. As born again believers we are eternal beings made in the image and likeness of God, emancipated from the dominion of darkness and restored to relationship with God our Father and to His destiny for our lives.
Recovering Our Dominion
Many believers are so focused on the assurance of salvation, through faith in the atoning sacrifice of Jesus, that they fail to recognize their responsibility to resist and take dominion over sin. It is possible to have saving faith without having entered the kingdom. In Galatians Paul clearly says that if we practise the works of the flesh we will not enter the kingdom.
(Galatians 5:21) The kingdom is the land of promise – the dimension where the blessings of God flow. God's blessings are withheld from saved believers who yield to sin until they recover themselves by repenting and removing the sin from their lives.
God's saved saints remain bound by the power of sin and darkness because they do not know how to take dominion over sin. For sin will have no dominion over you, since you are not under law but under grace. (Rom 6:14)
Let not sin therefore reign in your mortal bodies, to make you obey their passions. (Rom 6:12)
Let all bitterness and wrath and anger and clamor and slander and all malice be put away from you. (Ep 4:31)
Therefore put away all filthiness and rank growth of wickedness and receive with meekness the implanted word, which is able to save your souls. (Jas 1:21)
So put away all malice and all guile and insincerity and envy and all slander. (1Pe 2:1)
These scriptures make it clear that though we are emancipated from sins power we have the power and responsibility to put it away from our lives and to exercise dominion over it.
There is no reason any more to give ground to,
• unforgiveness, strife and bitterness;
• unloving spirits and fear;
• lust, uncleanness;
• pride and presumption etc
We can receive forgiveness, repent and remove the sins that ruin our lives. And we can exercise authority over the spirits behind these sins and so recover our identity and our blessing. Sin is not just moral failure, it is the illegal dominion of the "unkingdom". This kingdom of sin seeks to derail us from God's way and rob us from His blessing and life.
When we are in Christ we can eject it from our lives. For too long we have had 'a form of godliness while denying its power'. (2 Tim. 3:5) The "Sleeping Giant" is about to recover its blessing and birthright and rise and lay hold of the freedom from sin that is our birthright.
Sin & Health
We are accustomed to put obvious sins from our lives but we often fail to recognize that unforgiveness, bitterness, fear, worry anxiety stress are sins also. These too are parts of the law of sin. As we recognize and remove these sins from our lives our physical healing will generally spring forth speedily.
Medical science recognizes these are the roots of many of the great diseases that plague us today. It is recognized that many cases of diabetes have their origin in anxiety about the future and many cases of childhood asthma have their origin in the fear of abandonment.
Thousands of believers have recovered their health in these areas by removing the root causes of the disease in the first place. When we recover ourselves from the law of sin, the disease caused by that sin is usually removed and health is restored.
NEW WINESKINS
As we recover the awareness our destiny and mission the "Sleeping Giant" will again focus its attention on the commission to bring good news, hope and healing to the poor of the earth. This is why Paul so often prays, "that we may know the hope of our calling and how very great is His power at work in us" – all of us.
As every believer learns to rise in victory over sin and becomes available to the agenda of the kingdom an incredible awakening will take place. The leadership ministries of the church are learning to equip every believer for the work of evangelizing healing, and bringing hope, mercy and good news.
Many today look for a sudden intervention from heaven. They look for revival to come as some sort of a spiritual tidal wave suddenly generated from God's throne. We believe that this analogy is unhelpful. As we awake to our destiny and calling and begin to do what we are already empowered to do heaven will help us to reap a tremendous harvest.
The awakening of the "Sleeping Giant" will create new wineskins to hold the new wine of revival. New structures, formats and expressions will spontaneously arise to express this great awakening. The old wineskins (in place since the reformation), which have divided the body between laity and clergy, will yield to the new formats of ministry, which will emerge when all God's willing people are released to their true ministry as disciples.
"Thy people shall be willing in the day ofthy power." (Ps 110:3)